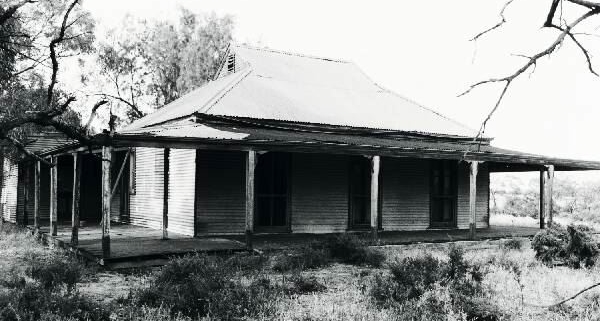 | | |
| --- | --- |
| Name: | Tara Downs Homestead |
| Location: | Tara Downs Station (central) |
| Use: | Former Dwelling |
| Constructed: | 1884 |
| Demolished: | 0 |
| Theme: | Agricultural |
| Condition: | Poor |
| Endorsements: | |
Statement of Heritage Significance:
Architecture/Environment:
A homestead consisting of two structures connected by a breezeway. The smaller rear building provides a kitchen/preparation area. It has a low hip iron clad roof. The main structure has a high gambrel roof and second straight pitch roof which covers a large wrap around verandah supported by plain timber posts. Some decorative wooden verandah brackets still exist. Both buildings are clad with corrugated iron. The facade is comprised of three panelled doors with patterned side lights. The internal walls are lined with decorative pressed metal and waist height vertical boards. The hallway ceiling has pressed metal panels with highlighted painting. Timber mirror backed fire laces are an attractive internal feature. The dwelling is sited on the western bank of the Great Anabranch.
History:
Tara Downs was one of the most impressive homestead on the Anabranch. The property was an outstation of Lake Victoria until it was thrown open to selectors under Farnells Land Act 1884. Grace settled the property.
Recommendation:
Conservation by inclusion in the Local Environmental Plan. Encourage restoration.
References:
R Smith; J Whyte
Recording Date: 19/11/1988
PHOTOGRAPHS:
Film Frame Nos:
0904/15,17