Roads and Traffic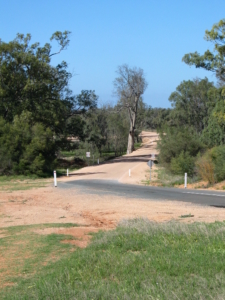 The Wentworth Shire Council has an extensive network of local and regional roads which consist of:
The Council also maintain 217km of State Highway which consists of:
Silver City Highway (SH22)
Sturt Highway (SH14)
Road Condition Report
A map of local roads that may be subject to closure can be found HERE
Our unsealed road network connects with other Shires, for information on road closures in surrounding areas please visit Balranald, Central Darling and Cobar Shire websites. Persons driving on closed roads will be subject to fines and may be charged for any works necessary to rectify damage. Unsealed road condition report will be re-issued only when unsealed road conditions change. Updates are also available by phoning (03) 5027 5090.
Additional Contacts
In the event of flooding , accidents or roadworks, road closures within NSW, VIC and SA can be obtained by visiting the websites below.
Road Permits
Road Opening Permit Template Required for the interruption or occupation of any area within the road reserve. Generally referred to as "Special Events", partial or full closure when interfering with access or movement flows of the public. Generally refers to interference with pedestrians, cyclists, vehicles, public transport  or property access.
Road Opening Permit Application To be completed by anyone wishing to conduct any kind of works that may affect council assets such as road, footpaths, sewer, drainage and water supply. Items include, roadworks, nature strip works, footpaths, water tappings, any excavations etc. Main items required are copies of proposed works diagram and/or description, traffic management plan/s, public liability certificate of currency ($20M minimum)
Guidelines for a Road Opening Permit. This form has been prepared as a guide in relation to legislation, in particular, the Local Government Act and Regulations, the Roads Act 1993 as amended, Environmental Planning and Assessment Act, OHS Act 2000 and Regulations 2001.
Road Safety
6 Dec 2018 10:00 AM –
Our commitment to Road Safety is reinforced by our ongoing partnership with Roads & Maritime Services (RMS) with a dedicated full time Road Safety Officer and Road Safety Action Plan 2018/21