Council Meetings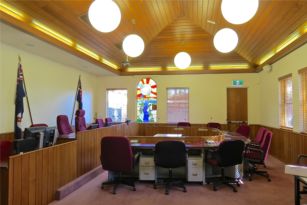 Ordinary Council Meetings of Wentworth Shire are held in the Council Chambers, Short Street, Wentworth, unless otherwise stated.
Members of the public are permitted to attend meetings however Council must adhere to limitations on attendee numbers as directed by the NSW Government.
Attendees must be double vaccinated to enter the Council Chambers for a meeting.
All persons attending meetings are required to wear face masks.
It is permissible under the Public Health Order for councillors, staff and others to remove their masks for the purposes of addressing the meeting but they must wear masks at all other times.
You can view the live public sessions of each Council meeting on Facebook
To view meetings after they have aired head to the Council website.
---
Ordinary Council Meeting Dates
Schedule of Ordinary Council Meetings
The next Ordinary Council meeting is 6:30pm Monday 31 January 2022 at the Wentworth Shire Council Chambers.