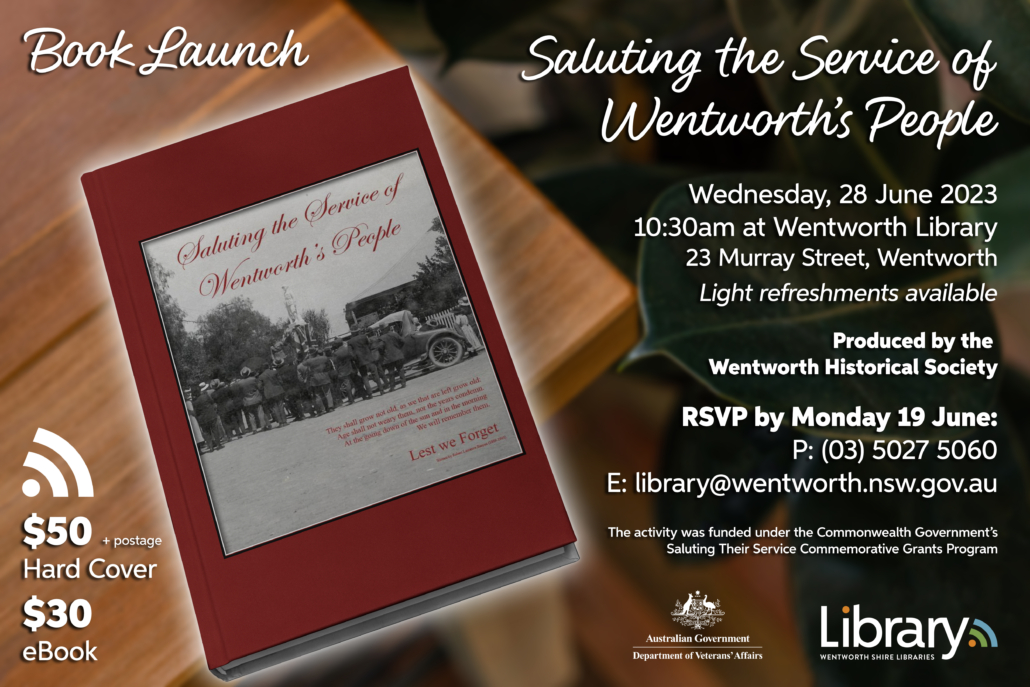 ---
Wentworth Historical Society, encouraged by Rosemary Bruce-Mullins, proposed to publish a book that records and acknowledges the service and lives of military personnel from the Wentworth NSW region. The book was intended to cover the service of personnel for all relevant conflicts from the Boer War through to Vietnam and currently serving personnel.
The book will provide a valuable resource to researchers and military historians.
Thanks to Rosemary's excellent submission, a grant of $10,000 for the project was approved in June 2020, made possible by The Department of Veteran's Affairs 'Saluting Their Service Commemorative Grants Program'. Her initial research identified around 600 names that would be included in the project. As the work progressed and significantly more information came to light, the number rose to about 1600 persons to be researched and recorded. Due to this overwhelming increase, the period for project completion was stretched out from April 2021, to November 2021, November 2022 and a final extension to June 2023.
During the research process, Rosemary and Tony Bruce-Mullins made two trips to the National War Memorial to open and interrogate service files and to find additional information.
After Rosemary's death in August 2022, with most of the research completed and compiled (what an achievement), the remaining members of the Historical Society's team completed the final work to bring this book to publication.
Hard cover books will be available to purchase on the day for $50 or can be posted for an additional fee. An eBook is also available for $30.
---
Book Launch – Saluting the Service of Wentworth's People
Date: Wednesday 28 June 2023 at 10:30am
Location: Wentworth Library, 23 Murray Street, Wentworth NSW 2648
Light refreshments will be available
For catering purposes, please RSVP by: Monday 19 June 2023 to Wentworth Shire Library
P: (03) 5027 5060
E: library@wentworth.nsw.gov.au
Please leave your details including name, contact number and the number of attendees you will bring to the book launch.
https://www.wentworth.nsw.gov.au/wp-content/uploads/2023/06/Book-mockup-Saluting-the-Service-of-Wentworths-People-scaled.jpg
1708
2560
Media
https://www.wentworth.nsw.gov.au/wp-content/uploads/2022/11/wsc-logo-180.png
Media
2023-06-02 09:38:03
2023-06-02 09:38:05
Saluting the Service of Wentworth's People