Historic painting donated to Wentworth Shire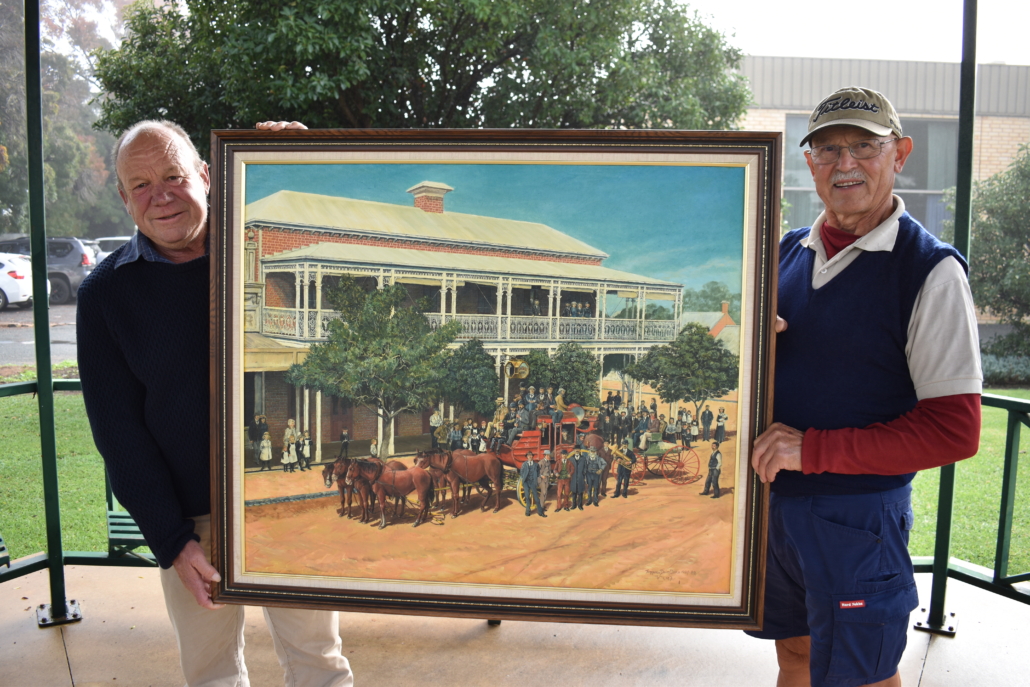 A PART of Wentworth's history has been returned to the town with the Dichiera family donating an oil painting of the Crown Hotel in the 1890s to the Wentworth Shire Council for display.
Vince Dichiera, former owner of the Crown Hotel, handed the painting completed in the 1980s by his brother-in-law Terrence David Doyle to Wentworth Shire Mayor Tim Elstone on Thursday along with a plaque detailing the history of the Crown Hotel and the town of Wentworth.
It is a faithful representation of a photo, provided to Mr Dichiera by local historian Geoff Whyte, of the Crown taken in the 1890s during a visit to Wentworth by the then Earl of Jersey, who was in the district at the time to declare the settlement of Curlwaa.
"(To donate the painting to the Shire) gives me great pleasure, I feel we have completed a historic occasion handing this over to Wentworth and for the town to display it where not only selected people can view it, if they are interested they have a history that can tell them about it," Mr Dichiera said.
Mayor Elstone thanked Mr Dichiera and his family for their donation.
"It's fantastic, it's a great part of the town's history and very, very generous of the Dichiera family to donate it back to the town," he said.
"It's a terrific thing and we look forward to it taking a prominent place in the new Civic Centre when it's done.
"It's very detailed … it's a great part of what Wentworth was so many years ago."
The original Crown Hotel was built by wealthy businessman William Gunn, Wentworth's first Mayor, in 1862.
Further additions were made to the building, including a new wing along Sandwych Street, a new lounge and a publican's residence upstairs.
The grandeur of the hotel was not built to last however, and the floods of 1870 and 1956 damaged its foundations.
The iron lace seen in the painting proved to be too heavy, eventually replaced by wooden balustrade.
The interior of the building was renovated in the 1960s to suit the style of the time.
By 1985 the Dichiera family, now owners of the hotel, concluded reluctantly that the rapidly deteriorating building needed to be replaced with a new one as their only practical option.
On March 18, 1988 the new Crown Hotel was officially opened by Shire President Geoff Rodda and Vince's father Ilario Dichiera.
https://www.wentworth.nsw.gov.au/wp-content/uploads/2022/05/DSC_0648-scaled.jpg
1707
2560
Communications
https://www.wentworth.nsw.gov.au/wp-content/uploads/2022/11/wsc-logo-180.png
Communications
2022-05-26 14:32:22
2022-05-26 14:32:23
Historic painting donated to Wentworth Shire