Wentworth Shire Council Australia Day Awards 2022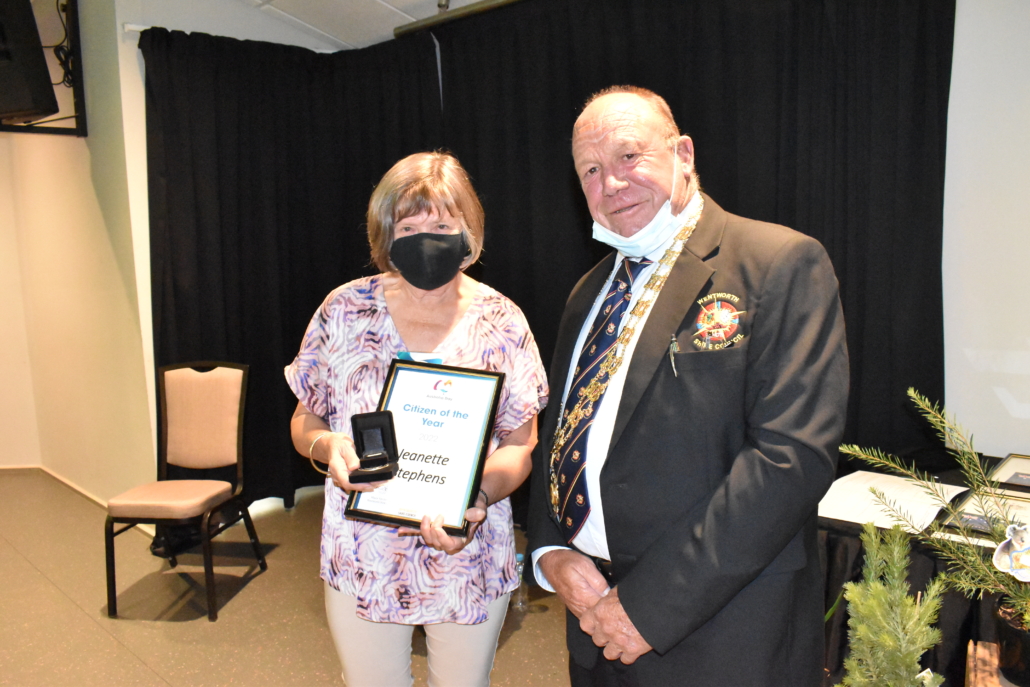 Jeanette Stephens has been announced as Wentworth Shire's 2022 Citizen Of The Year at Tuesday night's awards ceremony at the Coomealla Memorial Sporting Club.
Jeanette has been heavily involved in the Anglican Parish of Wentworth Dareton as Parish Secretary and was Sunday school teacher for 45 years, also furthering her studies in an effort to improve the Parish.
She has always displayed a strong support of school communities through involvement with P & C associations, tuck shop duties and voluntary reading with students.
Jeanette has been local her entire life and during this time has fostered 16 children of varying backgrounds, whilst having three daughters of her own.
Also nominated for the award were Dianne Pitt, Daryl Edwards, Margaret Morrison and Andrew Lamb.
Young Citizen Of The Year was awarded to Jess Doidge.
Jess was a member of the Wentworth Area Skate Park committee, raising money for the Wentworth Skate Park and was a helper at all of their fundraising events.
She has been a karate student for five years, earning her brown belt and therefore the responsibility of assisting junior karate students in learning stances, positions and Carta as well as
respect for themselves, the community and Renshi.
She has also been involved in several sporting clubs such as the Cobras Basketball Club and Coomealla Wentworth Cricket Club.
Through school she has volunteered at Murray House by assisting staff, spending quality time with residents and performing for residents as part of the school band.
In 2021 Jess was the Wentworth Public School Vice-Captain and assisted the schools P & C at a number of fundraising events.
Also nominated for this award were Kayla Hayes and Pippa Heeps.
Nicholas Witte was announced the Young Sportsperson Of The Year.
Nicholas is a junior member at Wentworth District Tennis Club where he assists with clubhouse and ground maintenance, plays in the B1 & B2 Pennant Teams and was runner up in singles and doubles for the Junior Boys Club Championships.
He is also a dedicated member of the Coomealla Wentworth Cricket Club in the Under 14s side and trains with the Curlwaa Islanders senior men's team where he is always willing to be a substitute fielder for their team or the opposition if required.
Nicholas competes in school-based sports, was part of the school representative soccer team and is always encouraging other students to participate.
Also nominated were Isabelle Newton and Brock Lyall.
Wentworth Shire Mayor Tim Elstone congratulated all award winners and nominees.
"Our great communities rely on the efforts of people such as Jeanette, Jess and Nicholas, as well as the respective nominees in each category, to make them tick," Cr Elstone said.
"Without these people, and others like them, Wentworth Shire would not be such a wonderful place to live and we hope they will continue their terrific efforts to improve our communities."
Eight new Australian citizens were conferred as part of the ceremony on Tuesday night.
These new citizens are Riyalyn Ortega, Aaliyah Ortega Santos, Charles Ortega Santos, Angel Cano, Salina Chirozva, Lisa Hutchinson, Zaihasra Imandin and Yi Chun Liao.
Wentworth Shire Council also presented awards of recognition to previous serving Councillors Jane MacAllister and Bill Wheeldon.
Former Councillor Peter Nunan received an Order of Merit for his service on Council between 1991-1998 and 2012-2021.Current sitting Councillor Susan Nichols received an Order of Merit for 16 years' service to Council, including recently as Mayor.
Former Councillor Donald McKinnon was awarded the prestigious Emeritus Mayor, for 31 years of service to Council including as Shire President in 1991 and 1992 and Mayor between 1993-2001 and 2012-14.
In total Mr McKinnon spent 14 years as Mayor and eight as a Councillor.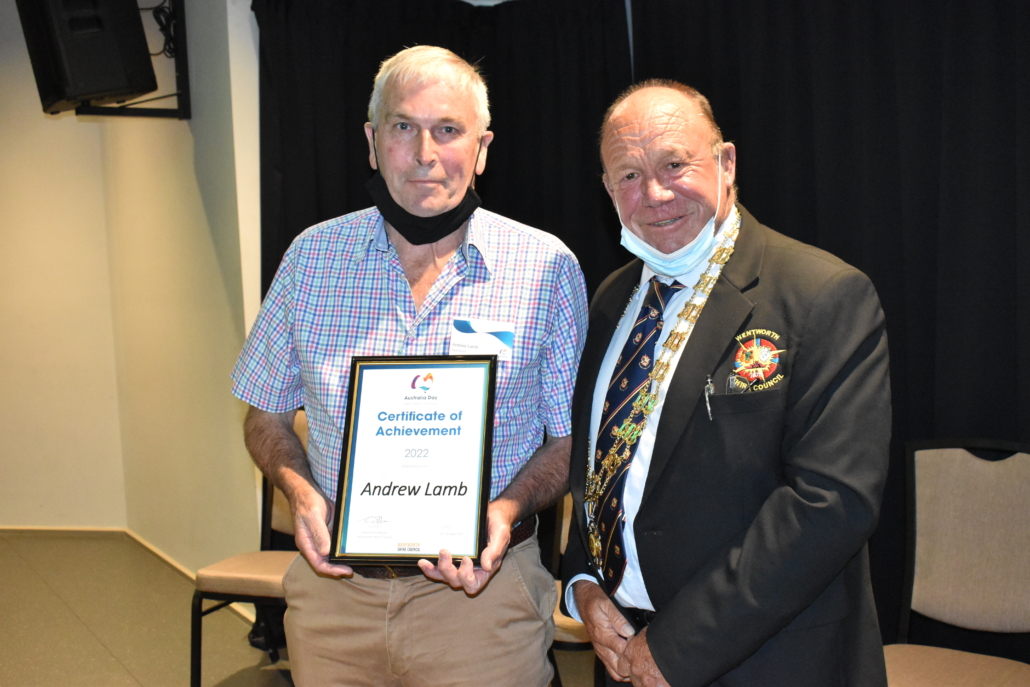 https://www.wentworth.nsw.gov.au/wp-content/uploads/2022/01/Citizen-Of-The-Year-Jeanette-Stephens-scaled.jpg
1707
2560
Communications
https://www.wentworth.nsw.gov.au/wp-content/uploads/2022/11/wsc-logo-180.png
Communications
2022-01-25 23:08:26
2022-02-28 11:40:55
Wentworth Shire Council Australia Day Awards 2022