Wentworth Shire Council trains next generation engineers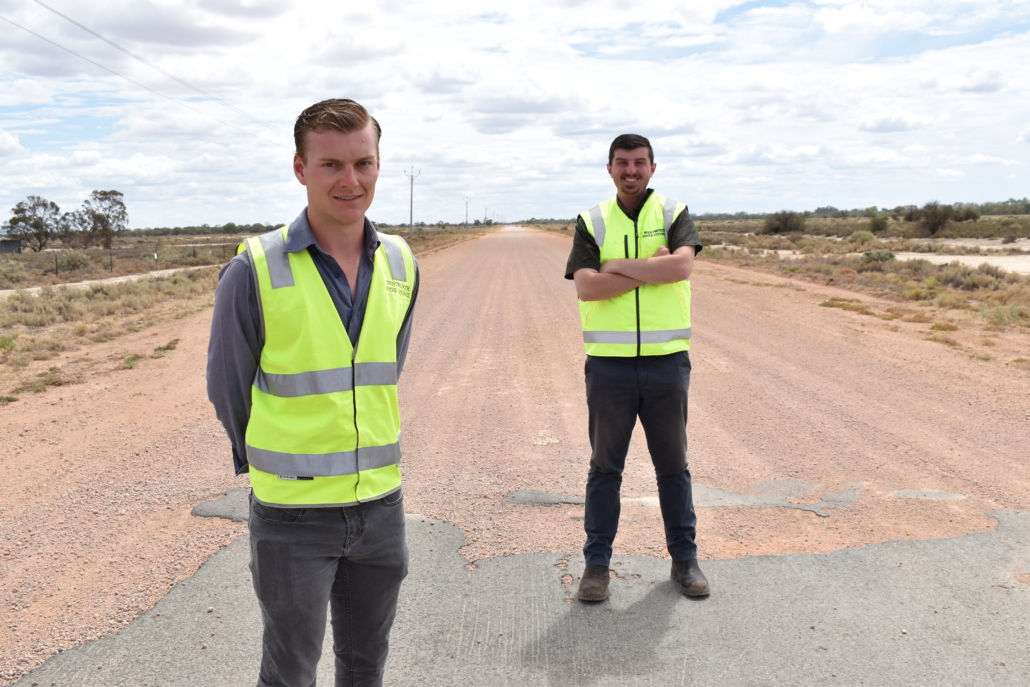 For new Wentworth Shire Council project engineer Ryan Thomson, there is no place like home.
The 22-year-old grew up at Gol Gol and now finds himself back at the Council where he completed his university placement between July 2020 and February 2021.
"The ultimate for me was to get back into the region and immerse myself into the community," Ryan said.
"This is where I grew up, this is where I'm happy to be, I enjoy the area, and coming back to a place I spent close to nine months I am back into a familiar environment and straight back onto the tools and into the work."
Ryan's placement came in the third year of his four-year Bachelor of Engineering (Civil) with Honours at Adelaide's Flinders University.
He spent 20 weeks on his placement, even staying on over his summer holidays to continue picking up skills on-the-job.
"I spent quite a lot of time with senior engineers, learnt a lot of skills and techniques and gained knowledge," Ryan said.
"Then had the opportunity to go and prove I've learnt things and am able to do things by myself."
Part of Ryan's current work with Council includes scoping out viability of a criterion cycling track at Buronga and the viability of an upgrade of the boat ramp at Pomona as well as civil works inspections.
"If those projects are deemed viable and secure funding I will then undertake design works and manage those projects through to completion," Ryan said.
Wentworth Shire Council Director Roads and Engineering Geoff Gunn said the Council was proud to provide opportunities for young engineers to get a footing in their career.
"Ryan brings fresh ideas to the table and as a local he already has a solid knowledge of the area," Mr Gunn said.
"Having previously worked at Wentworth Shire Council for his university placement he has a head start on what his role entails and the processes to work within the organisation.
"We look forward to seeing his career at Wentworth Shire Council progress."
Council currently has another engineering student, Mildura's Eli Alabaster, completing his 20-week university placement and like Ryan before him has opted to stay on for an extra 14 weeks to gain further experience and knowledge.
Eli approached Ryan to gauge the latter's experience with Council and whether it would be the right fit.
"I was impressed with what he told me and then rang Geoff (Gunn) to arrange the placement," Eli said.
"It has been an incredible experience. Being able to immerse myself within a professional environment has been invaluable to my professional career.
"Wentworth Shire Council has welcomed and pushed me to extend my skills."
Eli said he had been able to gain large amounts of knowledge from senior engineering staff within Council which has him excited for his next step.
"Local government has a vast range of responsibilities in regards to engineering work, which has required me to learn new things," he said.
"After I finish my degree at the end of this year, I hope to move into a full-time position in Civil Engineering in the Sunraysia region.
"I have thoroughly enjoyed my experiences as a Project Engineer at WSC and will look to move into a similar position in 2023."
https://www.wentworth.nsw.gov.au/wp-content/uploads/2022/02/Ryan-Thomson-and-Eli-Alabaster-scaled.jpg
1707
2560
Communications
https://www.wentworth.nsw.gov.au/wp-content/uploads/2022/11/wsc-logo-180.png
Communications
2022-02-09 16:01:15
2022-02-09 16:01:15
Wentworth Shire Council trains next generation engineers