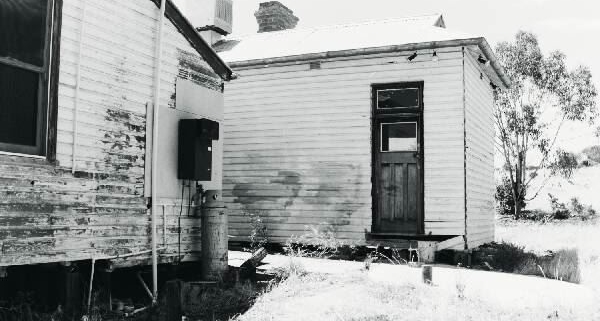 | | |
| --- | --- |
| Name: | Cal Lal Police Station and Courthouse |
| Location: | Cal Lal (Lake Victoria) |
| Use: | Former Police Station and Courthouse |
| Constructed: | 1900 |
| Demolished: | 0 |
| Theme: | Services and Community Facilities |
| Condition: | Poor, modified |
| Endorsements: | |
Statement of Heritage Significance:
Architecture/Environment:
A weatherboard structure with gambrel roof clad with corrugated iron extending over a front verandah. The elevated building is supported by posts. Wooden steps and side rails lead to the verandah, which is surrounded by timber balustrade. The courtroom has a platform where the magistrates bench was once located. A rear extension accommodated the police office and prison cell. The interior has been significantly modified to provide a private dwelling, which is now abandoned.
History:
Mounted policeman used to monitor the boundaries of local properties and the State border. There have been no police in the building since 1938.
Recommendation:
Maintenance of the facade. Reconstruction of cell and courthouse to original state.
References:
J Taylor
Recording Date: 30/11/1988
PHOTOGRAPHS:
Film Frame Nos:
6183/11,13